Glamping in the Smokies
Do you like the idea of camping, but not all the effort usually involved in getting you and your family ready for an adventure in the Smokies? Glamping, or "glamorous camping" allows you and your family to still be close to nature and enjoy everything the Smoky Mountains have to offer without worrying about packing sleeping bags, setting up a campsite, or sacrificing modern amenities like running water and plumbing.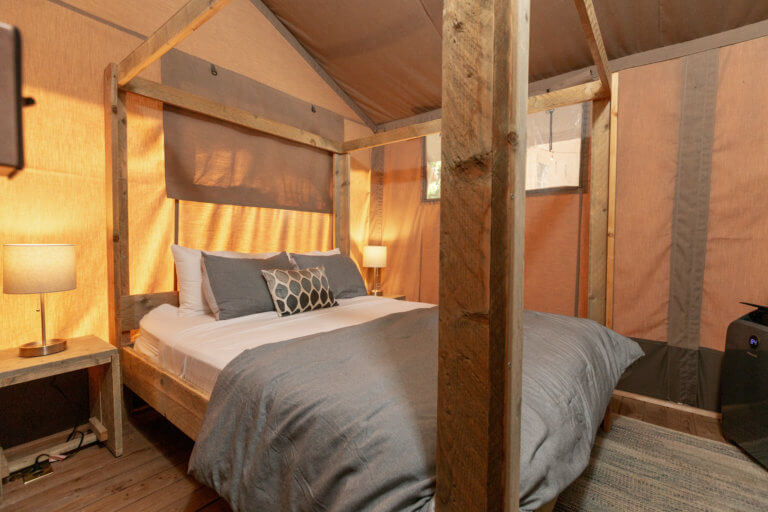 When many people think of "glamping" they think of staying in a cabin, but that's not always the case. Customized "Glamping Tents" have gained popularity over recent years, and offer a unique camping experience for guests. Glamping Tents have the look and feel of a traditional tent and allow you to stay on a campsite while allowing you and your family to have some of the same luxury amenities of a cabin.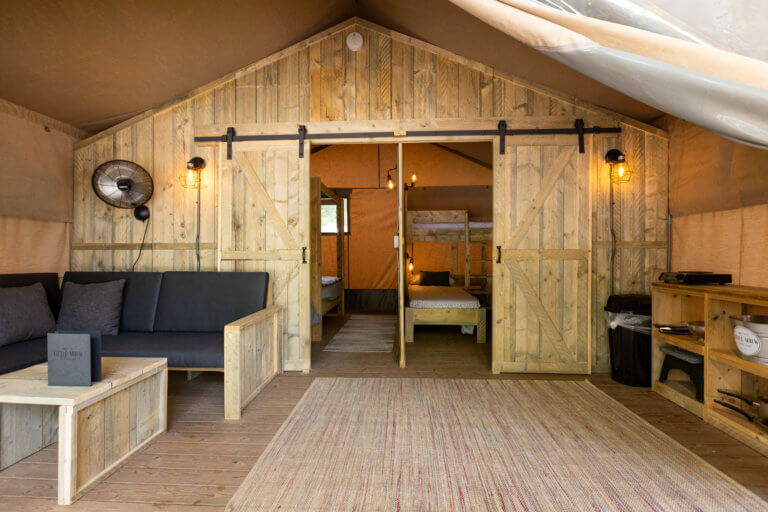 Little Arrow's "Luxury" Glamping Tents feature two bedrooms with wooden walls to separate living spaces, making it an ideal choice for families or couples. Luxury Tents also feature a small kitchen and are furnished with plush bedding, heat and air conditioning, as well as a bathroom for guests. The tent's kitchen is perfect for families that still want to enjoy home-cooked meals on their trip without having to rely on cooking on a grill or campfire.
For guests looking for an experience closer to traditional camping, the Primitive Glamping Tents feature many of the same amenities of the Luxury Glamping Tents such as plush bedding and heat and air conditioning but do not offer a bathroom or kitchen area. However, the tents are only a short walking distance away from our newly remodeled bathhouses.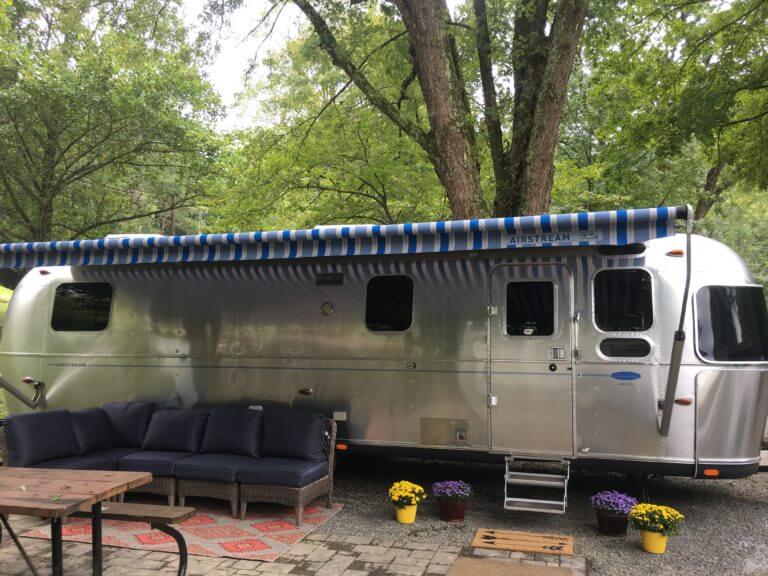 Cabins and Glamping Tents are not the only choices for glamping at Little Arrow. Our Airstream travel trailers are popular choices for glamping in the Smokies. The "silver bullet" Airstream camper features many of the same luxury amenities as the glamping tents, but with added extras to make it feel similar to a cabin or hotel. Our large Airstream includes two sofa beds in the living area, a dining table, flat-screen television, and a queen-size bed. The kitchen comes with a gas stove, fridge with freezer, toaster oven, coffee maker, kitchenware, and plenty of cabinet storage.
If that seems a little too lavish for you, there is also a smaller Airstream with fewer amenities, but still includes a small kitchen, bathroom, and a bunk bed with a twin-size bed on top with a full-size bed on the bottom. The larger Airstream is perfect for families with older children or a group of adults, while the smaller Airstream is more accommodating for a couple camping alone or a couple with small children.
Little Arrow Outdoor Resort offers some of the best options for glamping in the Smoky Mountains. The campground is conveniently located near some of the most popular destinations in the area. Cades Cove is only a 14-mile drive from the resort, making it an easy day trip for you and your family. Whether you chose to go glamping with us, or choose a more traditional camping route like a tent or RV, Little Arrow is the ideal place to experience the Smokies for you and your family.
SUBSCRIBE TO OUR NEWSLETTER